~ All Body Treatments include relaxing in your own 
private steam sauna ~
To schedule an appointment, call or text Mary at (562) 714-0202
We accept Spa Finder, Spa Wish and Spa and Wellness Gift Cards by Spa Week.
Body Treatments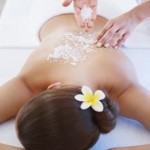 Organic Sugar Scrub ~ Exfoliates and nourishes your skin leaving it smooth to the touch.  Ideal combined with a Massage or a Body Wrap.
60 Minutes $125
Dry Brushing ~ The skin is brushed with a natural bristle brush to stimulate lymph flow, improve circulation, exfoliate skin and help cellulite.  After a shower and steam sauna, we lightly massage in an organic detox oil to leave your skin nourished and glowing.
60 Minutes $125
Marine Mud Wrap ~ Restores your skin's radiance, firms and tones the silhouette and replenishes your skin and body with vital nutrients.
60 Minutes $125
Chocolate Body Wrap ~ The ultimate treat for the senses and the body, rich in anti-oxidants that hydrates and smooths, leaving your skin glowing.
60 Minutes $125
Seaweed Body Wrap ~ This wrap is detoxifying and is highly effective in improving the skins spongy appearance and texture, leaving it firm, smooth and toned.
60 Minutes $125
Back Facial ~ Cleanses, exfoliates and nourishes the back.  Specialized for your skin type, includes some extractions.  Perfect for women and men alike who need attention in this area.
60 Minutes $125
Acne Back Facial ~ Includes the above, additional extractions and an enzyme peel to help kill bacteria.
90 minutes $175