~ All Body Treatments include relaxing in your own 
private steam sauna ~
To schedule an appointment, call or text Mary at (562) 714-0202
Body Treatments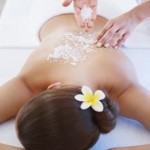 Organic Sugar Scrub ~ Exfoliates and nourishes your skin leaving it smooth to the touch.  Ideal combined with a Massage or a Body Wrap.
60 Minutes $95
Marine Mud Wrap ~ Restores your skin's radiance, firms and tones the silhouette and replenishes your skin and body with vital nutrients.
60 Minutes $95
Chocolate Body Wrap ~ The ultimate treat for the senses and the body that hydrates and smooths while giving your skin an all over glow. Produces a slimming effect on your body. Also Available in White Chocolate Truffle.
60 Minutes $115
Seaweed Body Wrap ~ This wrap is detoxifying and is highly effective in improving the skins spongy appearance and texture, leaving it firm, smooth and toned. Aromatic with Lime and Grapefruit Essential Oils.
60 Minutes $115
Firm and Glow Body Wrap ~ Feel confident again with the Firm & Glow Body Wrap. This full body treatment is enriched with an exclusive combination of anti-aging extracts, the latest in peptides, and an amazing liposomic technology. Your body will look more youthful radiant, deeply repaired, and hydrated. It contains many de-aging properties to visibly rejuvenate, instantly firm, and tone, tightening and reducing wrinkles. Experience the visible difference for yourself!
60 Minutes $130
Back Facial ~ Cleanses, exfoliates and nourishes the back.  Specialized for your skin type, includes some extractions.  Perfect for women and men alike who need attention in this area.
60 Minutes $130
Acne Back Facial ~ Includes the above, additional extractions and an enzyme peel to help kill bacteria.
80 minutes $150