*Any promotional offers, discounts, spa credits or Spafinder Gift Cards are not valid for Wedding Preparation Services.
For information on Bridal Spa Parties, click here.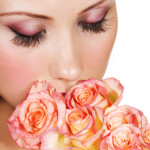 Makeup Application $100 (done in your guest room)
Airbrushed Makeup $125
Strip Eyelashes  – Perfect for a special occasion.  Our Esthetician will consult with you on style and length.  (Showering is recommended beforehand) $50
 Airbrush Makeup Application
Our Airbrush make-up foundation formula is water-resistant, silicone free, paraben free, and not tested on animals. A small amount of our specially formulated makeup is sprayed into super-fine mist onto the face, giving the coverage you desire (from sheer to opaque).  The result is a flawless, lightweight, natural, and undetectable coverage that will last all day with no need for touch ups!  $75
Airbrush Fantasy Tan- Why not pamper yourself with a little color? Everyone will ask you where you went on vacation and nobody will ever know it was our little secret! Come in and experience our sunless tropical tan.  This is a personal treatment, tailored to your individual needs. The magic behind the solution is it's red based undertones that are key to a real looking tan.  Many tanning products lack this special blend making you look orange! Fantasy Tan® also has 4 interchangeable shades. This is because no two people are exactly alike, and your spray tan should suit you and your skin type. Fantasy Tan® is safe for all skin types, It is derived from plant sources such as sugar beets and sugar cane, making it a simple non-toxic, FDA approved solution. Don't be fooled by imitations – A Fantasy Tan® is as real as it gets!  $79
Make sure you exfoliate your skin before your appointment. This promotes an even coverage and lengthens the duration of your tan by removing dead skin that would otherwise flake off.  Our organic scrub is the perfect way to way to achieve the perfect tan!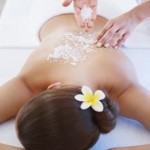 Organic Sugar Scrub with an Airbrushed  Fantasy Tan ~  Your skin is exfoliated and nourished before an all natural red based Airbrushed Fantasy Tan tailored to your individual needs.  Perfect before a wedding or other special event.
60 Minutes $179

For best results, use Fantasy Tan's Skin Care Line after your tan. These specially formatted products will help you develop and maintain healthy skin to maintain a gorgeous tan.